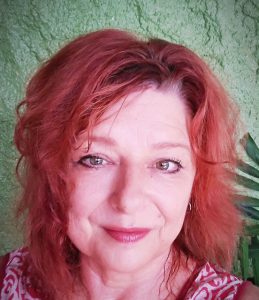 Red's Bio
Irma (RED) Benjamin
Giving back to the community she lives and works in, has been part of Red's personal mission statement and passion for life for over 30 years. She has lived in numerous places and the contribution of her organisational skills and fundraising capabilities has been of service to many communities and organisations.
Red moved from Australia to Vanuatu in 2008 with her dog Blondie, into a tiny home she had fallen in love with while looking for an investment property. She retired from her position as Executive Director for Le Reve Cosmetics and their Charity Foundation, where she led fundraising of hundreds of thousands of dollars for the Breast Cancer Network in Australia during her 17 years there.
In 2011 Red finally found an organisation in Vanuatu she knew she could assist, trust and was passionate about. Red's chosen charity became ProMedical Ambulance. Tropical Cyclone Pam five years later, introduced her to Rotary and her partner Michael Benjamin was the recipient of a "Paul Harris Fellow" for ProMedical's work during the cyclone.
Red is now Secretary of Rotary Port Vila, as well as owner of "Red's Hot Properties". A design, project management and makeover service for properties that really need a "Place Lift". She is keen to share her local knowledge, sense of humor and most importantly of all, her "courage to ask" story with you.