Our Inspirational Speakers
Further speakers will be added as arrangements are completed.
Dr. Manoj D. Desai is the Charter Member – Rotary Club of Baroda Metro.
He became the President of RC Baroda Metro in 1988-89 and District Governor of RI Dist. 3060 in the year 1997-98.  As DG, he had many records to his credit like highest Benefactors as well as starting Endowment Fund.
Dr. Manoj Desai is a well known Spine Surgeon at Vadodara since last 30 years.  He is one of the most sought after Speakers for Rotary in India. He is known for his innovative presentations like Muskaan, Aadat Se Ibadat Ki Aur, Kal, Aaj Aur Kal, Khayali Biryani, Neta, Life Line, etc. totaling to more than 96 power point presentations.  He has visited nearly all the Indian Districts more than three times in the last 12 years.
His motivational skills can be judged by the following data:
He was chosen as Training Team Member for GETS – (Governors Elect) six times.  He has motivated delegates in many Foundation Seminars and Membership Seminars, apart from many other speaking assignments on non-Rotary forum as well like SBI Officers, NIRMA, PAN IIT Gujarat, BMA, etc.  He was Chief Guest / Keynote Speaker for PETS – 109 times and District Assemblies & District Conferences – 122 times.
He has served on following RI and TRF assignments with distinction:
RRFC – 2002-04
RRIMC – 2007-10
International Training Leader – 2009-10
Moderator – 2011 Rotary Coordinators Institute, Chicago.
RI Director (Elect) 2015-17.
He is recipient of the following RI & TRF recognitions:
Regional Service Award for Polio Free World at Singapore Institute,
Citation for Meritorious Services of TRF
Service Above Self Award
Distinguished Service Award of TRF.
He belongs to Doers' Tribe which can be judged by his service for Rotary in more than 3256 Polio Corrective Surgeries performed free of charge in the last 25 years.  He created the successful Pulse Polio Model Baroda in 1995 before NID was started in India.  He was the Chairman of BRHF Committee who have successfully relocated two villages – Nani Matli (173 homes) and Dhutarpar (239 homes).
He is an example of excellent balancing between profession, family life & Rotary.  His wife Sharmishtha is a Rotarian, GSE Team Leader to Japan 2011-12 and Assistant Governor for 2011-12.  His both sons Sapan and Neil are settled in USA.
Manoj & Sharmishtha are Major Donors, BeQuest Society Members & Benefactors.  All the family Members are Paul Harris Fellows.
Sir Donald C. McKinnon ONZ GCVO
Donald McKinnon was most recently the Commonwealth Secretary-General.
He is the former Deputy Prime Minister and Minister of Foreign Affairs of New Zealand.
In 1990 he also became Minister of Foreign Affairs and Trade and later Leader of the House and Minister of Pacific Island Affairs.
During an almost decade-long tenure as New Zealand's longest serving Foreign Minister, he was also the inspiration behind what now has become The Asia Society from the Asia 2000 Group and also the Centre for Strategic Studies both Wellington based.
He was named Foreign Minister of the Year by a "The World Economic Forum" publication in 1998 and was nominated for a Nobel Peace Prize for his work in bringing about a peaceful resolution to the decade long civil war on Bougainville in Papua New Guinea.
He is now an Associate with the Aspen Atlantic Group in Washington DC is Patron of the New Zealand War Graves Trust and Trustee of Asia Foundation.
Don McKinnon was the CEO of the Auckland War Memorial Museum and now the Chair of Regional Facilities Auckland.
The New Zealand Government awarded him its highest honour, the "Order of New Zealand" ONZ and Queen Elizabeth II awarded Don McKinnon a Knighthood being the Knight Grand Cross of the Victorian Order G.C.V.O.
He also has seven honorary doctorates from various Commonwealth Universities and holds two Chiefly titles in Samoa and in 2013 he was awarded the World Class New Zealand Supreme Award by KEA (Kiwi Expats Abroad). 
Zeal – Brook Turner   
Brook Turner is the CEO of the Zeal Education Trust and is currently enrolled in Unitec's Graduate Diploma in not-for-profit management. Brook is also completing a Diploma in Youth
Work through the Youth Workers Network of Aotearoa. Brook has 13 years youth work experience and is a sought after speaker on youth development issues in New Zealand.
Brook has written a leadership curriculum that is now taught in ten high schools throughout the Wellington region. Brook also specialises in cognitive theory programs helping young people work through social issues in a community context.
No. 8 Re-wired
Celebrating NZ's ingenuity and global success
Jon Bridges and David Downs
If necessity is the mother of invention then Kiwi ingenuity – fossicking around the in the middle of the night where he probably shouldn't be – is certainly the father. Invention doesn't need three parents, so good old No.8 wire must be the milkman.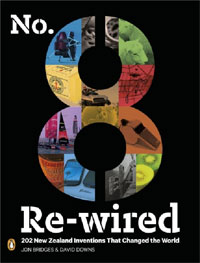 This comprehensive compendium is a treasury of New Zealand inventions – packed with the stories of 202 inventions and the people who made them.
From well-known innovations (human flight, the discovery of DNA and the creation of the Pavlova) to those which are less known (instant coffee, the referee's whistle) to the newest in high-tech world-leaders (robots and jetpacks!), this is the most complete and entertaining book ever on kiwi ingenuity.  And yes, the Pav is definitely ours.
 The book's light-hearted approach and strong visual layout will appeal to a wide range of readers – perfect for Dad, and with stories to impress your aunty and entertain the whole family. It's a celebration of the No.8 wire spirit that made New Zealand what it is today, and it's a look at how innovation can power us into the future. It's No.8 Rewired.
Jon Bridges
Jon is a well-known TV presenter and producer, with such credits as IceTV, Who Ate All the Pies?, and the panel show Would I Lie to You?. For the past four years he has been the producer of New Zealand's most successful TV comedy show, 7 Days.
 Jon has written a column for the New Zealand Listener, a popular blog for Stuff.co.nz, a book on cycling in New Zealand, Easy Rider, and another on New Zealand inventions and innovation, No. 8 Re-wired (with David Downs). Jon lives in the house he built with his designer wife Gemma, along with their recent addition Xeno.
David Downs
A native of Whanganui, David began his working life as an actor, writer, comedian and co-founder (with Jon and others) of The Classic Comedy & Bar in Auckland. He left this behind to start a second career in IT, which he stuck with for nearly 20 years, including a stint living and working for Microsoft in Asia. David's strong interest in innovative companies, and his pride in New Zealand, lead him back to Aotearoa and his third career at government agency New Zealand Trade & Enterprise, where he helps local businesses grow internationally.
David lives in Devonport, Auckland, with his TV producer wife Katherine and his three fast-growing boys Jack, Joshua and Toby.
PAUL WRIGHT (Tups)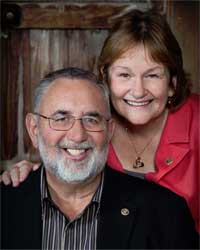 Rotary Club of Rotorua North
Club President 2005-2006 & 2012-2013
Paul Harris Fellow
Governor 2014-2015 District 9930
Paul was born in Taihape, and comes from a family of six children. Most of his school years were spent in Auckland, Northland and Canterbury. His secondary schooling was at Papakura and Lincoln High Schools. Paul joined Rotary in Invercargill in 1985 and Rotorua North in 1991. During his Rotary Service he has held most roles at club level and his contribution to the club and community was recognised when he was awarded a Certificate of Appreciation for Services to Rotary & the Community
He was a professional forester for 42 years starting with the NZ Forest Service as a Forest Ranger. After frequent transfers around New Zealand he assumed senior management roles in large corporate forestry companies culminating as Forestry Manager for 300,000ha of Central North Island forests. His career included two years as Principal of the Fiji Forestry Training Centre, a secondment to Foreign Affairs under NZ's Bi-lateral Aid Scheme, and two years forestry management in Queensland, Australia. Paul has a successful background in management of large and geographically widely dispersed operations.
Since returning from Queensland in 2007 Paul has been the Principal Rural Fire Officer for Pumicelands Rural Fire Authority. Based in Rotorua, he is responsible for the control of rural fire throughout the Pumicelands district which is predominantly all the commercial forest estates within the Central North Island.
Since 1977 Paul has been involved with many organisations outside Rotary but as he and Tups have a son with cerebral palsy, most of them have an association with the disabled.
Paul & Tups have two adult children. Their eldest son Kory, who is a past Rotarian of Rotorua North, lives in Geraldton, Western Australia with his wife and their two daughters. Paul & Tup's youngest son Kris has cerebral palsy and still lives with them at home.
Tups is a two term President of the Rotorua Inner Wheel Club and has regularly held Secretary and Treasurer roles for that club. Tups has also received a Paul Harris Fellow Award for services to the community. She is an enthusiastic supporter of Rotary and is committed to Paul's involvement in Rotary.
Conference  Master of Ceremonies
Danny Phillips. Rotarian at the Rotary Club of Birkenhead.
Danny Phillips is one of New Zealand's best known magicians. He has been performing professionally for over 30 years.
Winner of 22nd International Magicians' Convention for Best Stage Act, Best Illusion and Best Effect in 1993
Winner of Magicana Trophy for Best Close-Up Magician for 1993
Featured on the "Great Kiwi Magic Show", a one hour TV Special in 1996
Chosen by Television New Zealand as featured performer for the Asia Pacific Broadcasting Conference
Judge for the following International IBM convention in USA: Cleveland Ohio 2004, Reno Nevada 2005 and San Diego 2009
Master of Ceremonies IBM Convention Banquet Reno, Nevada USA in 2005
Ex New Zealand President of US based IBM (International Brotherhood of Magicians) Ring 160 (1991 – 2003)
Danny continues performing professionally, mainly corporate magic, weddings and special functions.
Danny is a member of the Rotary Club of Birkenhead